Alan Tudge and Michaelia Cash named in Rachelle Miller payment document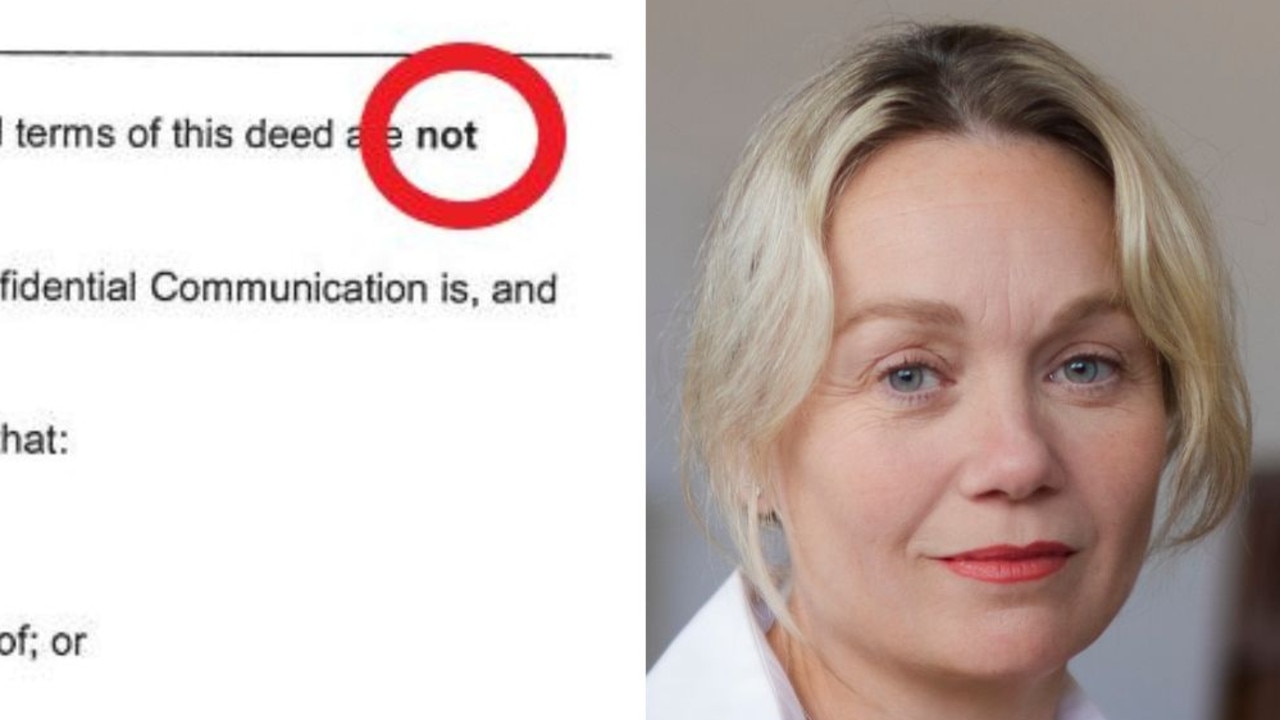 Liberal frontbenchers Alan Tudge and Michaelia Cash are both named in a landmark taxpayer-funded $650,000 settlement for "no admission" to former political staffer Rachelle Miller for "injury, distress and humiliation."
The release deed outlining the payment obtained by news.com.au reveals that the payment includes legal fees, medical costs and $300,000 for "injury, distress, humiliation, disruption of life, loss of professional status and impairment to personal dignity".
"Without admitting liability, the parties have come to an agreement on the terms set forth in this deed," the document said.
"In consideration of the releases contained in this deed, and in full and final settlement of all claims (existing and future) relating to the circumstances, the Commonwealth will pay Mrs Miller a total amount equal to $650,000 for her damages and losses .which happened.
Mr. Tudge and Senator Cash are both named as "beneficiaries" in the landmark taxpayer-funded $650,000 settlement.
Mr. Tudge and Senator Cash continue to deny that Ms. Miller was bullied or abused during her employment in the Minister's Office or while carrying on an extramarital affair with Mr. Tudge while employed.
Mr Tudge has confirmed he sometimes had sex with his publicist Ms Miller, including sleeping naked in the same bed on work trips, but insists he has not had any sex with her.
The breakdown of the agreed payment includes $10,000 for past loss of earning capacity; $100,000 for loss of future earning capacity; $28,000 as reimbursement for previous medical and other expenses incurred by Ms. Miller; $62,000 for future medical expenses to be incurred by Ms. Miller; and $300,000 for injury, distress, humiliation, disruption of life, loss of professional status and injury to personal dignity; and $150,000 in reimbursement of Ms. Miller's legal fees.
In an unusual provision designed to ensure that Ms Miller is not silenced by a non-disclosure agreement, the release deed also states that "the parties agree that the amount of the settlement and the terms of this deed are not confidential".
"Taxpayers have a right to know the outcome of complaints made against elected officials, particularly whether a settlement has been paid," Ms Miller told news.com.au.
"My case was settled without a non-disclosure agreement, which is a significant step forward for transparency and a huge step forward for victims.
"Without that, I would certainly have taken my case to the Federal Court. Unfortunately, if my story had not gained public attention through the media, I suspect an NDA would have been required by the Commonwealth.
"The silence of victims who receive settlement amounts to compensate for their traumatic experiences…is a fundamental reason why this toxic culture has remained hidden for so long."
Ms Miller said it was "in the spirit of transparency" that she was releasing details of the payment.
"It is important that you understand the reasons why the Commonwealth paid a settlement. I do this in the hope that you understand why change is so late.
Mr Tudge told news.com.au: 'I emphatically reject these latest allegations, just as I have rejected Ms Miller's previous allegations, of which I have been cleared by two independent inquiries.'
"I was not a party to these matters or any payment requested and I have no knowledge of them."
In a statement, Senator Cash said "regulation rests with the Treasury Department."
"Senator Cash vigorously rejects allegations of any adverse treatment of Ms. Miller and strongly disputes Ms. Miller's version of events," she said.
"At the time of her hire, between late 2017 and mid-2018, Senator Cash and her office understood Ms. Miller's personal situation, which is why she was offered support, time off and flexible work arrangements. "
News.com.au first revealed in April that the Morrison government was finalizing a $500,000 payment to Ms Miller.
At the time, former Prime Minister Scott Morrison repeatedly said the negotiations were "private", but added later during the election campaign that they were not finalized.
During the leaders' debate on Channel 7 during the election, the former prime minister said: "On the other issue of the financial settlement, I am informed that the issue has not even been settled.
Mr Morrison then claimed that if there were any questions relating to Mr Tudge he would have been informed.
"If there was any issue in the Finance Department's assessment that implicated the conduct of any Minister in the granting of this payment, that issue should be raised with me by the Finance Department through through the Secretary of the Prime Minister and Cabinet Department," Mr Morrison said
"Now, I can absolutely assure you that no such reference was made to me, so to imply that would be wrong," he said.
Mr Tudge then conducted an interview with Sky News during the election campaign, noting that if the payment had anything to do with him, as the Prime Minister claimed, he would have been told.
"I was not called as a witness. I was not asked to provide evidence and as the prime minister said, if it involved me he would have been made aware and he was not made aware,' Mr. Tudge.
Ms Miller was employed as a political staffer in Parliament from March 9, 2010 to July 27, 2018. She worked as a media adviser to Mr Tudge between August 17, 2016 and November 28, 2017. She then worked as a senior adviser to the media. for Senator Cash between November 29, 2017 and July 27, 2018
In November 2020, Ms Miller revealed that she had had an extramarital affair with Mr Tudge while employed on Four corners' Inside the Canberra Bubble program.
She later filed a complaint with the Commonwealth alleging she had been subjected to bullying, harassment and discrimination during her employment with Mr Tudge and Senator Cash.
Accordingly, the Morrison government commissioned Sparke Helmore Lawyers to undertake a review of this first complaint.
However, Ms Miller did not take part in the first inquiry after her lawyers raised concerns about the independence of the investigation.
He made no findings of wrongdoing against Mr. Tudge.
On December 2, 2021, Ms Miller released a statement alleging Mr Tudge was emotionally abusive towards her – claims Mr Tudge strenuously denied.
A report by Vivienne Thom later revealed that Mr Tudge had not breached ministerial standards. Ms. Miller did not participate on the basis of legal advice.
On December 17, 2021, the Commonwealth received the mediation document from Ms. Miller.
According to the deed of release, the December mediation document alleged that Mr. Tudge's actions toward Ms. Miller during Tudge's period of employment: violated the DDA by engaging in discrimination on the basis of disability; violated the SDA by engaging in sexual harassment and gender discrimination; violated WHS law by failing to provide Ms. Miller with a safe work environment; violated the implied term of Ms. Miller's contract that she would be provided with a safe workplace; and violated adverse action and other provisions of the FW Act by taking adverse action because of Ms. Miller's gender and disability.
Ms Miller plans to write to all parliamentarians on Tuesday asking for their full support from the Federal Parliament to ensure that the recommendations of Set the Standard: Report on the Independent Review into Commonwealth Parliamentary Workplaces are fully implemented.
"My experience of filing a formal complaint was, frankly, horrific and left me more traumatized than when I started it. It pains me that without the assistance of a legal expert, many victims are unable to navigate the current complaints system which is neither fair nor independent, protects wrongdoing parliamentarians and exacerbates the power imbalance," writes -she.
"The negative impact that my experience as a political staffer has had on my career, my mental health and my family has been significant. However, my experiences are not who I am and they do not define me. I am proud of what I have accomplished, now I want to move on.