'Mattress Mack' makes another massive bet, sports betting record payout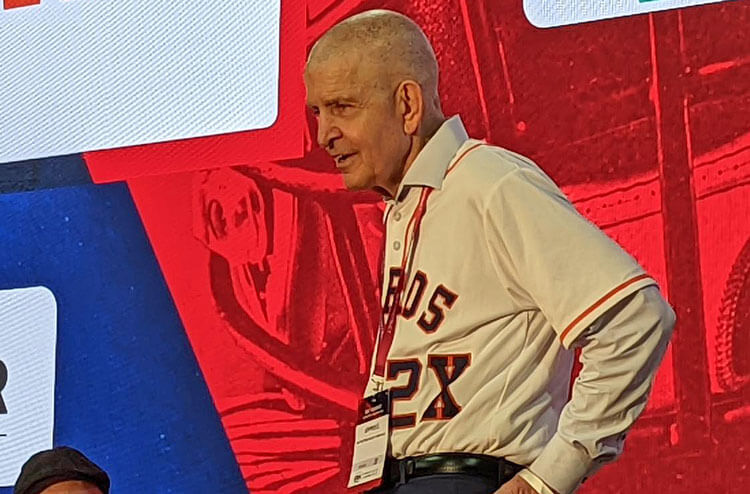 On Monday, McIngvale reportedly bet $2 million on the Houston Astros to win the World Series, which was placed at +533 odds and would pay out $10.6 million if successful.
Houston furniture store owner Jim "Mattress Mack" McIngvale is aiming to become the biggest winner in legal sports betting history.
On Monday, McIngvale bet $2 million on the Houston Astros to win the World Series, which was placed at +533 odds and would pay out $10.66 million if successful. The bet was abandoned at Barstool Sportsbook at L'Auberge Casino in Lake Charles, Louisiana.
The latest play comes on top of a $3 million bet on the Astros to win the World Series at Caesars Sportsbook, which McIngvale placed at +1,000 odds and could net him $30 million. Mattress Mack also made another $1 million bet on the Astros in May on WynnBET at +1,200 odds, with a potential payout of $12 million.
McIngvale's total stake on an Astros World Series win now stands at $6 million. If Houston won, it would earn Mattress Mack a combined payout of $52.6 million, the biggest legal sports betting win of all time. the Las Vegas Review-Journal reported.
The big bet is for the Astros to win it all in 2022! Thanks @barstoolsports to take the bet, & @LAubergeLC For your help! Participate in the Astros Win It All 2X promotion to get DOUBLE YOUR MONEY BACK on your $3,000+ mattress purchase if the Astros win it all in 2022! pic.twitter.com/psP5hcFTUG

— @MattressMack (@MattressMack) July 19, 2022
Mack's Madness Method
But McIngvale is not your typical high roller. It effectively executes a hedging strategy by placing multi-million dollar bets on retail and online sportsbooks to attract customers while covering potential losses from its unique promotional programs. This year, McIngvale is offering customers who buy $3,000 or more in furniture double their money back if the Astros win the World Series.
"The promotion is going very well," McIngvale told the Review-Journal. "I needed more capacity to sell my furniture. We sold from the first bets."
McIngvale, 71, has helped grow his Gallery Furniture business – which he founded in 1981 with his wife, Linda – through his promotional efforts, which have garnered him a lot of publicity.
Last Wednesday, for example, McIngvale was one of the main attractions at the SBC Summit North America conference in New Jersey. Appearing onstage for a discussion wearing cowboy boots and a personalized Houston Astros jersey, he told ESPN reporter David Purdum that "winners are the best publicity in the world."
McIngvale also doubled down on the essence of its promotional strategy.
"Ninety percent of every bet I make is for promotion," he said. "These promotions attract a higher quality customer, a customer who spends more money, who is more affluent and more creditworthy."
In his remarks to conference attendees, McIngvale explained that his wild bets are essentially publicity stunts meant to help his furniture stores fend off competition from online sellers such as Amazon and Wayfair.
"Unless we do something fun for customers, we're going to go bankrupt," McIngvale said.
However, the furniture magnate does not appear to be in danger of insolvency. According to figures provided in an April Forbes profile of McIngvale, its three Gallery Furniture stores in Houston generated more than $230 million in revenue in 2021, an increase of more than 40% from 2019.
Risk of dismissal
McIngvale's $6 million Astros bet is also just the latest in a series of high-stakes bets that allow him to brush off the risk of millions of dollars in losses from his promotions.
In the past year alone, McIngvale has lost $4 million in bets on the Astros to win the 2021 World Series (they lost to the Atlanta Braves in six games), $9.5 million in moneyline bets at the Caesars over the Cincinnati Bengals to win the Super Bowl (they lost to the Los Angeles Rams), before doubling down and winning $12.5 million betting correctly on Kansas to win the basketball championship men's NCAA after losing $1 million on a previous bet.
But that major score only dulled the pain of $25 million in gambling losses dating back to the 2021 Super Bowl, which it presumably made up in furniture sales.
According to Forbes, Mattress Mack is no fool when it comes to calculating risk. For example, McIngvale placed his bet on Kansas at +190 before the Jayhawks faced Villanova in the Final Four. If he had waited for No. 1 seed Kansas to beat Villanova in the semifinals, the odds would have been -190 or worse, which would have required him to bet $25 million to win $12 million. of dollars.
"There's no advantage to doing this if you're taking a negative proposition bet to cover losses," McIngvale told Forbes.
And in the case of this year's Super Bowl bet, McIngvale's $9.5 million "loss" to the Bengals would have allowed him to avoid repaying about $20 million in furniture sales.
"The Bengals lost, and it broke my heart because I wanted to see the customers get their money back, but it just didn't work out like that," McIngvale said. told ESPN after the Super Bowl. "But you know what? We live to play another day. You win some, you lose some and sometimes it rains. I got up this morning, put on my big boy pants and went to work."
In the meantime, McIngvale's $6 million Astros bet looks good after the All-Star break of the MLB season.
The Astros are currently at 59-32, the third-best record in the majors behind the New York Yankees (64-28) and Los Angeles Dodgers (60-30). Another thing in McIngvale's favor is that the Astros are proven winners, having reached the American League Championship Series for the past five straight years.
"The Astros are very hot," he told the Review-Journal. "We'll see what happens in the second half."