UDR Stock: A Sustainable Multi-Family REIT with Reliable Payout (NYSE: UDR)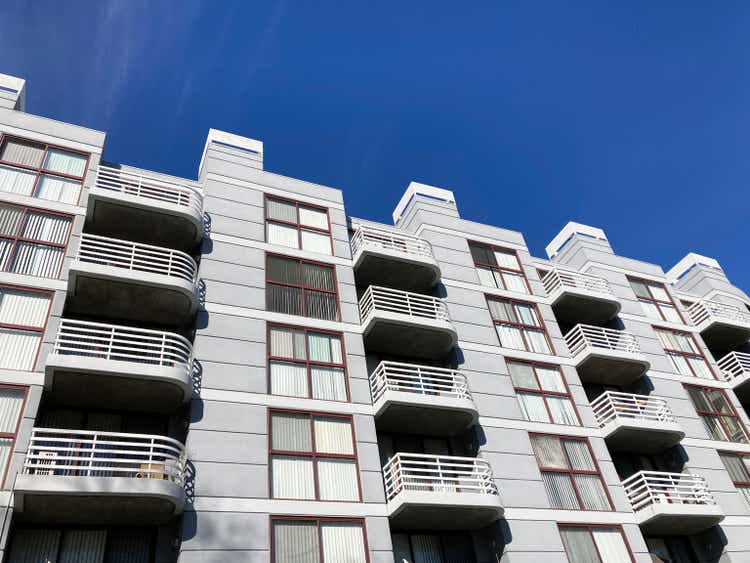 UDR, Inc. (NYSE: UDR) is a multi-family REIT and a constituent of the S&P 500 that has an interest in 160 communities with approximately 57,000 apartments. Their geographic footprint is concentrated primarily in the Northeast/Mid Atlantic and The West Coast regions, both representing 76% of ENR as of March 31, 2022. Their remaining footprint is in fast-growing Sunbelt states, such as Texas and Florida.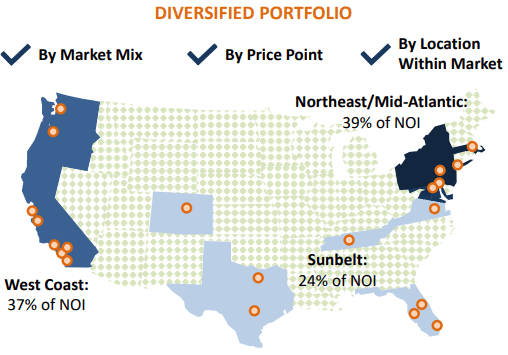 The diverse characteristics of their portfolio include not only their presence in coastal and sunbelt areas, but also their mix of urban/suburban communities, which operates at a 30/70 split, respectively, and their mix of quality communities A and B, with a respective distribution of 45/55. UDR's diversified portfolio with pricing that caters to a wide variety of tenants is a strength that reduces volatility in their business and provides greater downside protection during a recession.
In addition to a diversified portfolio of residences, UDR also benefits from a base of quality residents whose household income is on average 170% higher than the median income of the MSAs in which the company operates. In addition, the credit quality of their tenants has remained consistent and their average rent-to-income ratio has remained in the low 20% range, despite gradual increases in rental rates.
Since the start of the year, the UDR is down almost 25% and 4% last month. The broader S&P, by comparison, is down 20% year-to-date and 7% last month. Although the UDR has held up better over the past month, there is still room for further improvement.
The company operates on solid foundations and has been a REIT for nearly 50 years. During this period, they have been a reliable dividend payer with steadily increasing payouts. At the current price, stocks are not too far off their lows. For investors looking for an entry point into a quality REIT with reliable dividend payout and modest upside potential in share price, UDR is a consideration worth considering.
Revenue review and other reportable events
During the most recent filing period ended March 31, 2022, UDR reported total revenues of +$357M. This was 18.5% higher than the same period last year and slightly better than expected. Additionally, same-store cash revenue rose 10.8%, which was above the range provided by management earlier in March.
The main contributors to growth in the current period were mixed lease growth of 14% and strong occupancy, 100 basis points higher than a year ago. Additionally, annualized revenue was down 530 basis points from a year ago and 570 basis points from their historical first quarter turnover rate.
During the quarter, demand for apartments showed no signs of slowing down. According to management, the cost of renting in enterprise markets compared to home ownership is currently 45% cheaper compared to 35% pre-COVID. With the portfolio's average rental loss hovering between 10-11%, there is still an upside to be had in rental rates going forward.
In the second quarter, management expects mixed lease growth to be between 15 and 18% and occupancy to average around 97%. The expected construction in addition to a strong first quarter has led to a generalized increase in forecasts for the full year. At the midpoint, same-store growth is expected to be about 1.5% higher than previously forecast.

Overall, UDR has seen continued rental growth over the current period, helped in part by robust demand and double-digit rental growth. With a rent-to-income ratio still around 20%, most tenants are not burdened with rents and should continue to absorb further increases, although growth rates are expected to slow in the second half of the year, as reporting comes up against more difficult comps and regulatory restrictions.
The fundamentals
As of March 31, 2022, UDR had total assets of +$10.7 billion and total liabilities of +$6.0 billion. Total liabilities included +$1.1 billion in secured net debt and +$4.4 billion in unsecured net debt. The maturities of this debt are well staggered, with an average duration of the debt of 7.4 years. In addition, less than 20% is due within the next five years.

At 6.4x EBITDA, net debt is higher than their peer group. Equity Residential (EQR), for example, reported net debt of 5.38x in its latest earnings release. The UDR is, however, making steady progress in reducing its debt burden. At 6.4x, leverage is down from 7x a year ago and should be around 6x by the end of the year.
In addition to total liquidity of +$1.7 billion, UDR also boasts an industry-leading weighted average interest rate of 2.8% on its outstanding debt. As the debt profile is more than 90% fixed rate and due in the coming years, the UDR is relatively insulated from the increased risks associated with rising interest rates. A strong fixed charge coverage ratio of 5.3x provides further assurance of the company's ability to meet its recurring obligations in the interim.
While inflationary pressures across the economy are a net negative for most businesses and consumers, multi-family REITs such as UDR benefit from higher rent growth that correlates with rising salaries. In addition, rising home prices and the increased cost of upgrades/replacements continue to force many to turn to the rental market. While rising costs are impacting G&A and development, most of UDR's +$700M pipeline costs have already been bought out and have adequate contingencies, which should limit any unexpected overruns.
Currently, UDR's annual dividend payment is $1.52/share. It was last increased in March 2022 by around 5% compared to the previous year. This continues a steady history of continuity and growth. With a forward AFFO payout ratio of 72%, the dividend is well covered and in line with the industry median. From a cash flow perspective, the company's operating cash flow in the first quarter covered the common payment by approximately 1.4x. Given UDR's strong financial position and future earnings potential, there are currently no concerns about the safety of dividends.
Main risks
In the fiscal year ended December 31, 2021, nearly 60% of the total NOI came from communities located in the DC Metro Area, Orange County, Boston, San Francisco Bay Area and Seattle. While exposure to these regions offers many benefits, the concentration poses a risk to the business. These five areas, for example, have been hit harder by the COVID-19 pandemic than other markets, resulting in larger declines in rental income, high rent concessions and lower occupancy compared to other markets. If any of these markets were to deteriorate further, UDR's results of operations could be materially affected.
Various state and local governments in the UDR's operating regions have enacted and may continue to enact laws and regulations that may limit their ability to raise rents. With rates reaching new highs, there is an increased risk that political leaders will be called upon to act, particularly during an election year. Any new or strengthened rent control and stabilization legislation or lawsuits against the UDR would adversely affect the UDR.
Fannie Mae and Freddie Mac are a major source of financing for participants in the broader multifamily housing market, including buyers of the company's properties. The elimination or significant changes in the traditional roles of Fannie Mae and Freddie Mac could imply a reduction in the amount of funding provided by these two GSEs. In the past, legislative proposals have been introduced to reduce or phase out GSEs, including a proposal from the previous federal administration to end conservatorship and privatize Fannie Mae and Freddie Mac. If future efforts to change the status of these two GSEs are successful, UDR's results of operations could be adversely affected
Because many of the Company's apartment communities are in areas that have experienced severe weather in the past, UDR's portfolio faces unique risks from unpredictable weather disasters. In addition to property damage, increased frequency or more intense weather events could ultimately negatively impact demand for UDR properties. In addition, it is also possible that the company may not be able to recover property damage in a timely manner or at all costs through insurance claims. In addition, changes in federal, state and local laws and regulations in response to these events could result in increased compliance costs for the business.
Conclusion
UDR is a quality, multi-family REIT that consistently delivers above-average total shareholder returns (TSRs). Over the past five years, for example, their rolling 3-year TSR has outperformed the NAREIT Apartment and Equity indices 75% and 90% of the time, respectively.
The company's geographically diverse portfolio with pricing that appeals to a wide variety of tenants is a competitive strength that provides protection against market volatility and recessionary business environments.
With the cost of home ownership out of reach for many, UDR is expected to see continued demand for its multi-family units due to their relatively affordable price compared to owning and renting single-family units. The company will also benefit from rising interest rates as it will further increase the cost of ownership and further reduce rental revenue.
To CAPM-derived discount rate of 7.7% and an expected dividend growth rate of 4.5%, the stock would be worth approximately $50 using a standard dividend discount model. This represents an increase in the share price of approximately 8.5% at the current price. Additionally, investors would receive an annual dividend which currently pays 3.3% and is steadily increasing each year. With results already well underway, equities offer an attractive entry point for investors who are bullish on multifamily rental housing.