What credit score is needed to buy a house?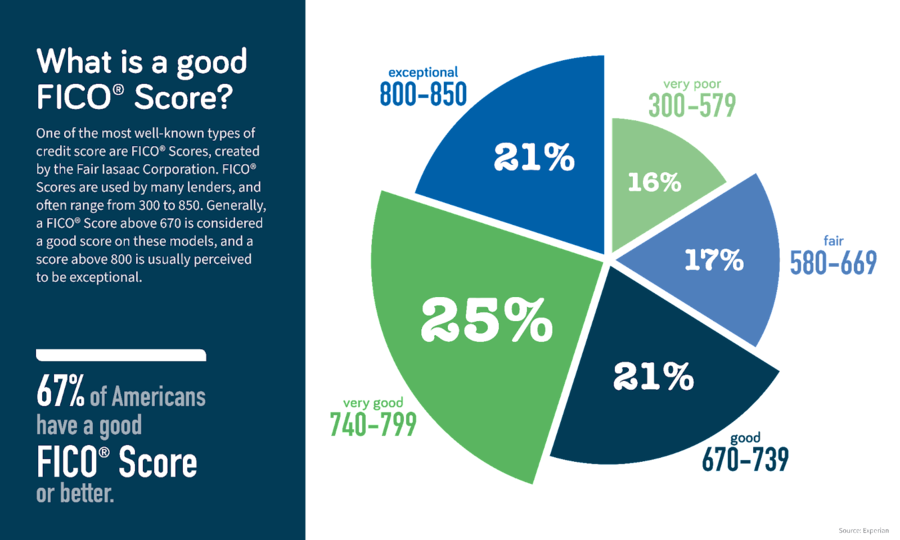 When it comes time to buy a home, a potential buyer's credit rating plays a vital role in the lender's decision. If you're wondering, 'what's the perfect credit score?' the answer is that it depends.
Various factors go into determining the credit score needed to buy a home, and different mortgage products have their own unique credit score minimums.
Additionally, each of the three credit bureaus – Experian, TransUnion and Equifax – maintains their consumer credit scores, resulting in multiple FICO scores, and lenders will likely want to see all of them before making a credit decision. Potential buyers could qualify to buy a home with a credit score of 640 or even lower in some cases.
What is the lowest credit score needed to buy a house?
Credit scores range from 300 to 850, as do FICO scores. Lenders are generally interested in a potential buyer's three credit scores as well as their FICO score attached to each report.
Generally speaking, a credit score of 640 or better should be high enough to qualify for one of the major mortgage options. However, for some mortgage products, a lower credit score will suffice. Keep in mind that the higher your credit score, the lower the interest rate attached to your mortgage.
For potential buyers who want a low 3.5% advantage on a Federal Housing Administration (FHA) loan, the lowest FICO needed to buy a home is around 580.
However, the FHA does not necessarily prevent consumers with credit scores below this level from qualifying for a mortgage. Prospective buyers with a FICO score below 580 would need to pay a 10% down payment to meet the agency's lending standards.
Types of Loans and Credit Scores Needed to Buy a Home
Beyond the FHA, other loan products have their own criteria for the lowest credit score needed to buy a home.
VA and USDA Loans
Veterans could use a loan backed by the US Department of Veterans Affairs (VA) to buy a new home or refinance an existing mortgage. However, the VA has not established a credit score threshold to qualify for a VA loan, as this is set lender by lender.
Veterans could use the minimum credit score adhered to by most lenders, which is 620, as a gauge. The VA relies on its own "residual income guidelines" against a borrower's debts and expenses to ensure veterans don't take out a loan they can't afford.
The United States Department of Agriculture (USDA) has a host of criteria to qualify for a loan. However, like the VA, the USDA avoids a specific credit score requirement.
Experian states that most lenders who facilitate USDA-backed loans are looking for a credit score of at least minus 640. According to the Mortgage Research Center's USDALoans.com, borrowers with a credit score of 640 or higher may qualify for the USDA's automated underwriting system.
Potential borrowers with credit scores below this level may be able to qualify for USDA manual underwriting standards.
Conventional loan
Conventional loans can be conforming or non-conforming. Whether it is compliant or non-compliant determines whether it meets the Federal Housing Finance Agency (FHFA) criteria for income and debt, covering loan size.
The loan size limit from 2022 is $647,200, but could reach $970,800 in the most expensive neighborhoods.
To qualify for a conventional loan, you must have a minimum credit score of 620, whether it's buying a new home or refinancing a mortgage. Conventional loans are neither backed nor guaranteed by the government.
Jumbo Loan
Jumbo loans have stricter standards as lenders inherit higher risk given the size of the loans. As the name suggests, jumbo loans are larger than other mortgages, intended for homes priced at the higher end of the spectrum.
Whether you're shopping in an expensive neighborhood or a bidding war has driven up the price of a property, a jumbo loan might be the better product.
Given the size of the loan, the credit standards are higher. We have good news if you are wondering, "Is 700 a good credit score?" »
The minimum credit score required for a mortgage up to $1 million is 700, and it increases from there.
For a loan between $1 million and $1.5 million, you will need a credit score of at least 720. And for a mortgage between $1.5 million and $2 million, the minimum credit score is 740.
FHA loan
An FHA loan is a loan backed by the Federal Housing Administration. As mentioned above, there are credit tiers for this type of loan product based on the amount the buyer pays towards the down payment.
You will need a FICO score of at least 580 plus a down payment of 3.5% of the purchase price.
You will need a FICO score between 570 and 579 plus a deposit of 10% of the purchase price.
An FHA loan also has other requirements, including a debt-to-equity ratio of less than 43%. The buyer must take out mortgage insurance, live in the house as their primary residence and present proof of regular income and employment.
Total Mortgage works with borrowers like you across the United States. Let Total Mortgage connect you with one of our mortgage experts today.
Understand how your credit score is determined
Credit scores allow lenders to assess the loan risk associated with a potential borrower. A FICO score further analyzes this data to determine the likelihood that a consumer will be able to repay debts on time or late.
The credit score reflects the information contained in each of the three credit reports, while a FICO score, in particular, is divided into five distinct groups with the following impacts:
Payment history (35%)
Amounts due (30%)
Length of credit history (15%)
New Credit (10%)
Composition of credit (10%)
What is the Perfect Credit Score?
Many potential buyers want to know if 680 is a good credit score or if 700 is a good credit score.
And while it's probably high enough to qualify for a mortgage, there's still room for improvement. According to Experian, the best FICO score is between 800 and 850, a range it considers "exceptional".
What is a fair credit score?
For potential buyers who manage a credit score of 640, know that this FICO score is in a range considered fair, between 580 and 669.
What is a low credit score?
A low FICO score falls below the 670 level, according to Experian. Let's further detail these scores in different categories according to the following table:
Ways to increase your credit score
Potential buyers who need to improve their credit rating or are simply looking to get the best possible interest rate on a mortgage could take specific steps to improve their credit rating.
Pay your debts on time: Payment history includes 35% of your FICO score.
Reduce your credit card balances: The best credit ratings have a utilization rate of less than 10%.
Refrain from applying for another loan in the months before trying to get a mortgage.
Find the type of loan that suits you best
Total Mortgage is ready to help you with your mortgage needs. Whether you're buying a home, refinancing, or looking for a home equity loan, Total Mortgage can get you a free quote today.